Sensitive skin during pregnancy can occur even if you've never had sensitive skin before. These changes are linked to – you guessed it – your ever fluctuating hormones! There's so much going on inside your body, it makes sense that things change on the outside, too. But we're here to help you deal with the increased sensitivity and find out how to soothe itchy tummies.
Common skin changes during pregnancy
Stretch marks (Read all about stretch marks here!)
Pigmentation and discolouration
Increased sensitivity
Itchiness
Acne and breakouts
Why is skin more sensitive during pregnancy?
The increase in hormones can cause extra-sensitivity to anything ranging from sunlight, detergents and even certain types of food. It's also because as your baby grows, so do you! Your skin is going to stretch, which can cause it to feel itchy, dry and tender. If you had eczema before pregnancy, it may flare up even more. But there are ways to help ease sensitivity!
How to treat sensitive skin during pregnancy
We might be a little biased – but our top tip is to switch up your skincare regime. The products you used prior to pregnancy will potentially contain ingredients and chemicals that you weren't even aware of, combined with crazy hormones that can really irritate skin. You might have used a certain product for years, yet suddenly it can cause flare ups and redness.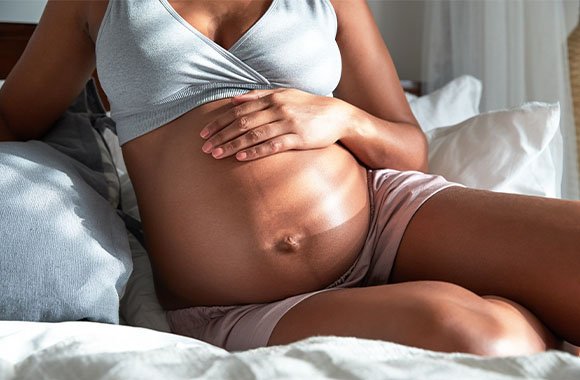 All of our products are developed solely for use during and after pregnancy, with our no nasties policy making sure it's 100% safe yet still effective. Mama Mio skincare also treats specific concerns that only occur during pregnancy – hormonal imbalances, sore boobs, itchiness and increased sensitivity to name just a few!